Information on COVID-19

Please visit https://legacy.camosun.ca/covid19/ for the latest information and Frequently Asked Questions.

COVID-19 Useful Links:

Information on Website Modernization

Camosun launched a new website on April 14, 2020. Please visit Communication and Marketing's Information Page for the latest information for this project. Useful Links:

Updated: 5-May-2021 9:09 am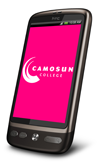 Camosun's mobile site is your go-to page when you're out (well, for Camosun-related stuff at least). Check this page for important notices, college closures, class cancellations and links to our other mobile websites and apps.
Looking for the full site?